Phew. Well, that's another National Curry Week gone for the year. What? You didn't know? Neither did I, to be honest, but partly because of that, and partly because I recently did a relevant cooking class in Cape Town, today's newsletter is taking the first of a few swerves away from Middle Eastern cuisine into the deliciously wild expanses of the South African melting pot.
First a word about National Curry Week. Is there any end to these dedicated days and weeks (and months)? The calendar does seem to be rather jammed with them. Apparently this one dates back just 21 years. It aims to honour what it says is Britain's national cuisine, celebrate South Asian restaurants and raise money for associated charities.

My friend Yael Breuer turned over a spot on one of her shows on Brighton's Latest TV to explaining the occasion and putting the dish to the televisual test. She makes the perfectly correct point that curry itself is a British invention, with curry itself being an anglicised version of the Tamil kari. I also came away from viewing it feeling hungry — but also thinking other national connections to the subject may have been overlooked.

Take the famously aromatic Cape Malay cuisine, which is the particularly fruity and mild Asian style that was first brought to Cape Town some 350 years ago by slaves snatched from the Malay Peninsula, including what we now call Indonesia. Here of course is an immediate Middle Eastern connection, because the cuisines in that area were also influenced by Arab traders who passed through the region at the wretched time of Dutch colonisation.

More about how that has played out in what are now traditional South Africa refreshments can be seen here. Boeber, for example, is a traditional sweet milk drink made with vermicelli, sago and sugar and is flavoured with cardamom, cinnamon and rose water. This delicious drink is traditionally served during Ramadan. Another enticing Cape Malay drink is falooda— a sweet rose flavoured milkshake topped with ice-cream and softened basil seeds.
Then there's the food.
Another way to experience this is by visiting the multi-coloured Bo-Kaap neighbourhood in Cape Town. Located a short walk from the downtown, in the shadow of Sugar Hill, the area used to be known as one of the city's drabbest. That changed with the end of apartheid. Residents were for the first time allowed the opportunity to own their own houses. Bo-Kaap quickly acquired the physical colour and distinctly jaunty, celebratory air that nowadays keeps the visitors coming.
It also smells great, thanks in part to various spice stores catering to those who trace their origins to both the Indian subcontinent and Southeast Asia.
Today, along with much else, it also welcomes visitors eager to interactively add to their cooking repertoire
Christine Salins, an Australian journalist and one of the other participants in our South African Tourism-sponsored class, has already written about our group's session, which also included a walking tour along the cobblestoned streets of the elevated neighbourhood.
The class is run by Zainie Misbach* along with her son and daughter-in-law, Zayed Harris and Zoelfaa Basson (pictured above with a struggling student). The family originally came from Java. Anyone who has spent time on that particular island would recognise the style of cooking, the welcoming air of the hosts and the sweet and soft style of this most delectable — and easy-peasy— meal.
Java Chicken Curry
50ml vegetable oil

2 medium-sized onions, chopped

1 kg chicken, skinned and cut into portions

15 ml turmeric

15 ml ground cumin

10 ml ground coriander

10 ml fennel

15 ml red masala (available at spice shops)

30 ml garlic and ginger paste

1 medium tomato, chopped finely

4 potatoes, peeled and cut into quarters

6 to 7 fresh curry leaves (available at spice shops)

6 to 7 sprigs of fresh coriander

Salt
Heat a little oil in a pot, add onions and sauté until browned. Add chicken and stir well, and then add the spices, garlic and ginger paste, a pinch of salt and the chopped tomato. Pour in 250 ml of water. Cook, then stir for five minutes, and then cover the pot with a lid. Add the potatoes, another 250 ml of water, then cover and simmer on a low heat until the potatoes are soft. Just before serving add the curry leaves and coriander and stir gently. Serve with rice or homemade rotis.
Happy Curry Week.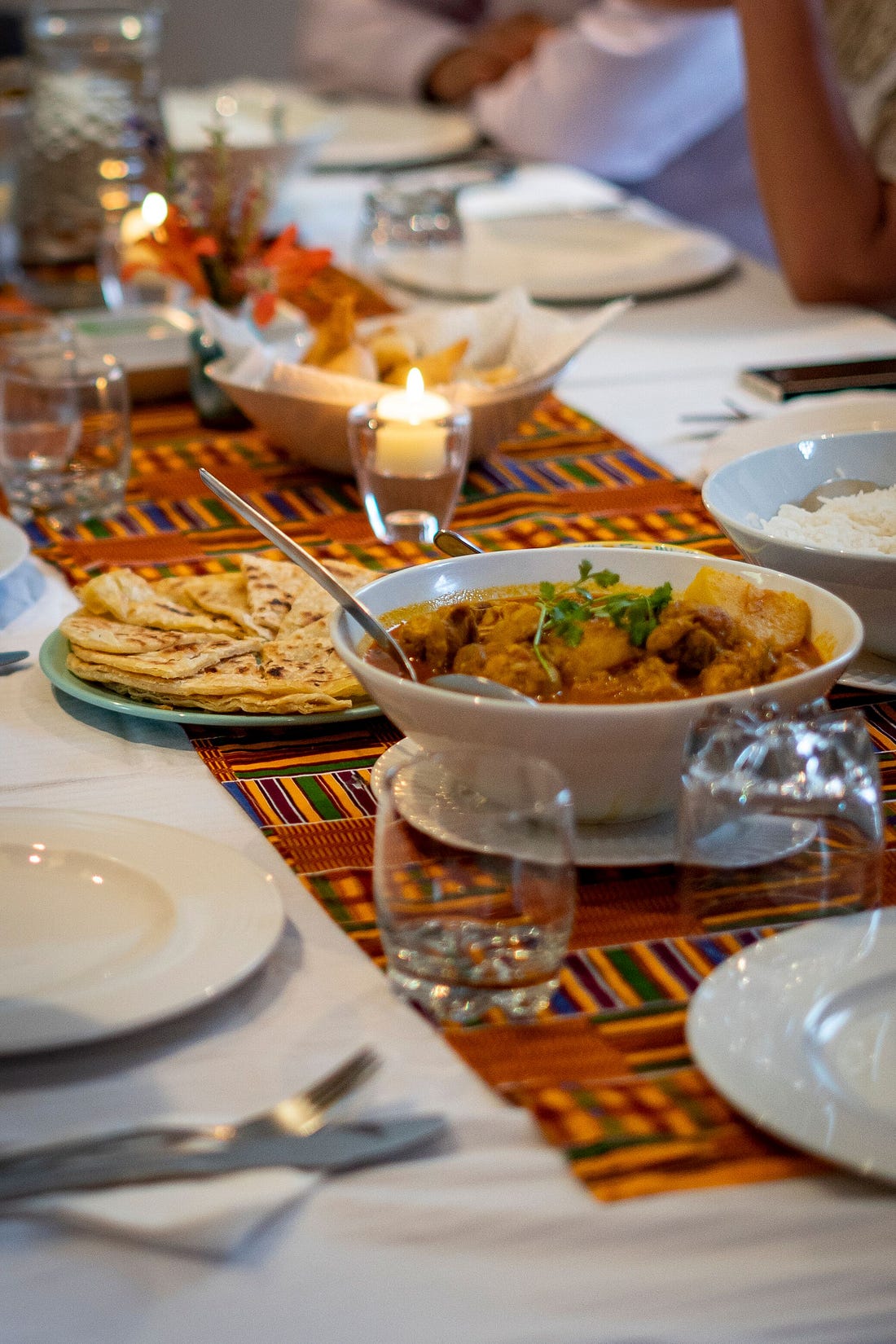 *Zainie Misbach offers cooking classes in the Bo-Kaap where she teaches small groups to cook traditional Cape Malay dishes such as curries, rotis, samoosas and dhaltjies. A three-hour tour and class costs R600 a person, cell 074 130 8124, email bokaapcookingtour@gmail.com, www.bokaapcookingtour.co.za